Rateseeker Round-up: 2022 Property Market Outlook
With 2021 behind us, it's a good opportunity to look ahead to the New Year and all it holds. The past year was a significant one for the property market, with new Government schemes for buyers, more listings on the market, and rising property prices.
Whether you're planning to buy or sell this year, it pays to know the biggest property market movements from the past 12 months. Here are five stories you to keep an eye on as we kick off 2022.
Mortgage 'loyalty tax' rises
Have you ever stopped to review your mortgage and check if you're still getting the sharpest rate on your home loan? If not, you may be paying more than you have to.
According to the Reserve Bank of Australia (RBA), owner-occupiers are paying a higher 'loyalty tax' on their mortgages than ever before. Back in October 2020, owner-occupiers who took out new variable loans were charged an average of 0.32 percentage points less than existing borrowers. One year later, this gap had widened to 0.37 percentage points.
With the RBA expected to increase the cash rate in 2022, it's a good time to explore your options with different lenders.
Don't want to wait? Get in touch with us today to see if refinancing is right for you.
More properties being listed for sale
Here's some welcome news for potential buyers: a wave of new listings are coming onto the market, which means more choice in 2022.
In November 2021, 96,346 properties were listed for sale, according to SQM Research. This figure was 2.3% higher than the month before and 20.4% higher than the year before.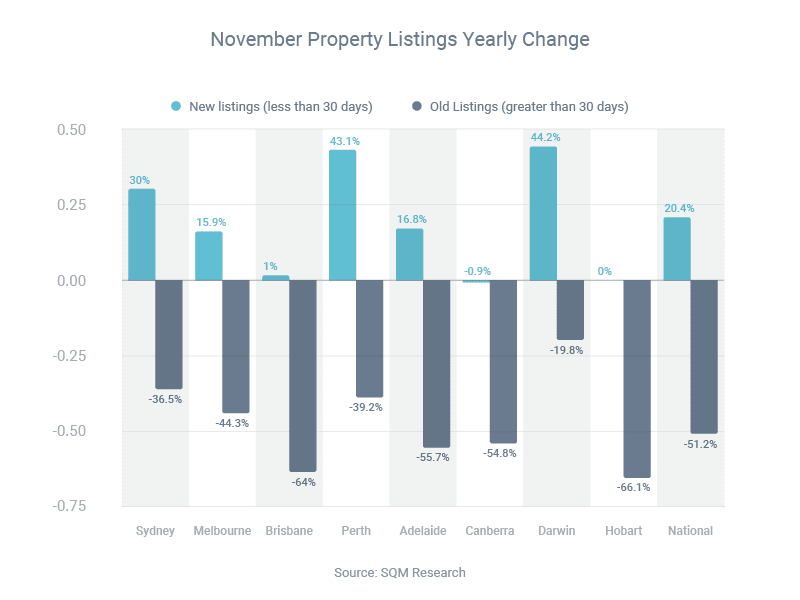 On top of this, realestate.com.au reported that the number of new listings added to the website in November reached their highest level in a decade for capital cities and highest level in five years for regional locations.
Despite an uptick in new properties, properties are also selling faster than before. Properties listed on realestate.com.au during November took an average of 30 days to sell, which is incredibly low by historical standards. In November 2020, the figure was 44 days.
Increased support for first home buyers
The Federal Government will add an extra 4,561 places to its new First Home Loan Deposit Scheme and New Home Guarantee in the 2021-22 financial year. These spots were unused during the 2020-21 financial year.
The First Home Loan Deposit Scheme lets eligible first home buyers purchase a home with just a 5% deposit, without having to pay Lender's Mortgage Insurance (LMI). The New Home Guarantee is almost identical, except it applies to new builds, off-the-plan properties and house-and-land packages.
There's still no word on which scheme the additional places will be added to, but it's likely to be spread over both programs based on demand.
Looking to buy your first home? Our experienced brokers will help you find the right home loan and guide you through the entire application process. Contact us today for an obligation-free consultation.
Average loan size in Australia jumps 16.4%
Australians are taking out bigger loans in response to rising property prices, according to data from the Australian Bureau of Statistics (ABS).
Over the year to October, the average home loan increased 16.4%. What's more, this trend is consistent across the board: loan sizes have increased in every state and territory in the country,
If you're planning to buy in 2022, it's important to keep an eye on your Loan-to-value Ratio (LVR), particularly as property prices increase. The lower your LVR, the more likely lenders will offer you lower interest rates and special deals. On the flipside, if your LVR is above 80%, you will likely need to pay LMI.
Australians turn to mortgage brokers in record numbers
With an uncertain market and surging property prices, more Australians are turning to mortgage brokers to help them secure their home loan. In the September 2021 quarter, mortgage brokers originated a record 66.9% of all new residential home loans, according to research group Comparator. This represents an increase of 6.8% on the year before.
So why are more Australians working with mortgage brokers than ever? There are three main reasons:
Value. When you work with a mortgage broker, the broker will compare loans from a wide variety of lenders. This means you'll get the best rate on the market, not just the rate prescribed by your bank.
Ethics. Brokers have to follow the Best Interests Duty, which legally obliges them to work in their clients' best interests. Banks have no such obligation.
Expertise. Seasoned brokers have been in the game for a long time, and offer unparalleled expertise into the property market. They can guide you on the loans that are most suitable for your personal and financial situation, as well as how to prepare a successful mortgage application.
Broker market share is likely to keep increasing in 2022 with the rollout of open banking, a system that makes it easy for consumers to share their data with third parties. Best of all, working with a broker is absolutely free if you're a buyer, as brokers get paid a commission by the lender.
Looking for a broker? Speak to our team today to find out how we can help you with your next home loan.
** General Advice Warning

The information provided on this website is general in nature only and it does not take into account your personal needs or circumstances into consideration. Before acting on any advice, you should consider whether the information is appropriate to your needs and where appropriate, seek professional advice in relation to legal, financial, taxation, mortgage or other advice.
Browse categories
More articles