Rateseeker Round-up: May Property News
As winter officially kicks off in the Southern Hemisphere, the Australian property market is mirroring cooling temperatures with cooling buyer sentiment. The recent RBA interest rate hikes have been passed on by the majority of lenders and, in tandem, buyers are steadily shifting their attention from houses to units.
If you've missed the latest news from the property market, don't worry — we have you covered. Check out the four biggest stories from May below.
Refinancing on the rise for Aussies
The Reserve Bank recently increased official interest rates by 0.25 percentage points and has signalled more rate rises are on the way. But rather than panic, buyers are turning to refinancing to find a comparable home loan with a lower interest rate.
A number of Australian lenders are offering special deals to people who refinance, so there's a good chance that a mortgage broker can help you switch to a lower-rate loan. This move will also help offset any future rate rises.
A word of warning: When you refinance, you'll have to go through the same qualification process you experienced when you took out your current home loan.
If you're looking to refinance, consider:
Reducing your expenses and increasing your savings rate.
Lowering your credit card limit, as a higher limit will reduce your borrowing capacity, even if you pay off your entire credit card debt each month.
Maintaining or even increasing your credit score by paying all your bills on time, and, possibly, closing out any personal or car loans you might have.
Not sure if refinancing is right for you? Get in touch with our team of brokers today to compare home loan products and seek the sharpest refinancing rate on the market.
Growth gap between houses and units continues to narrow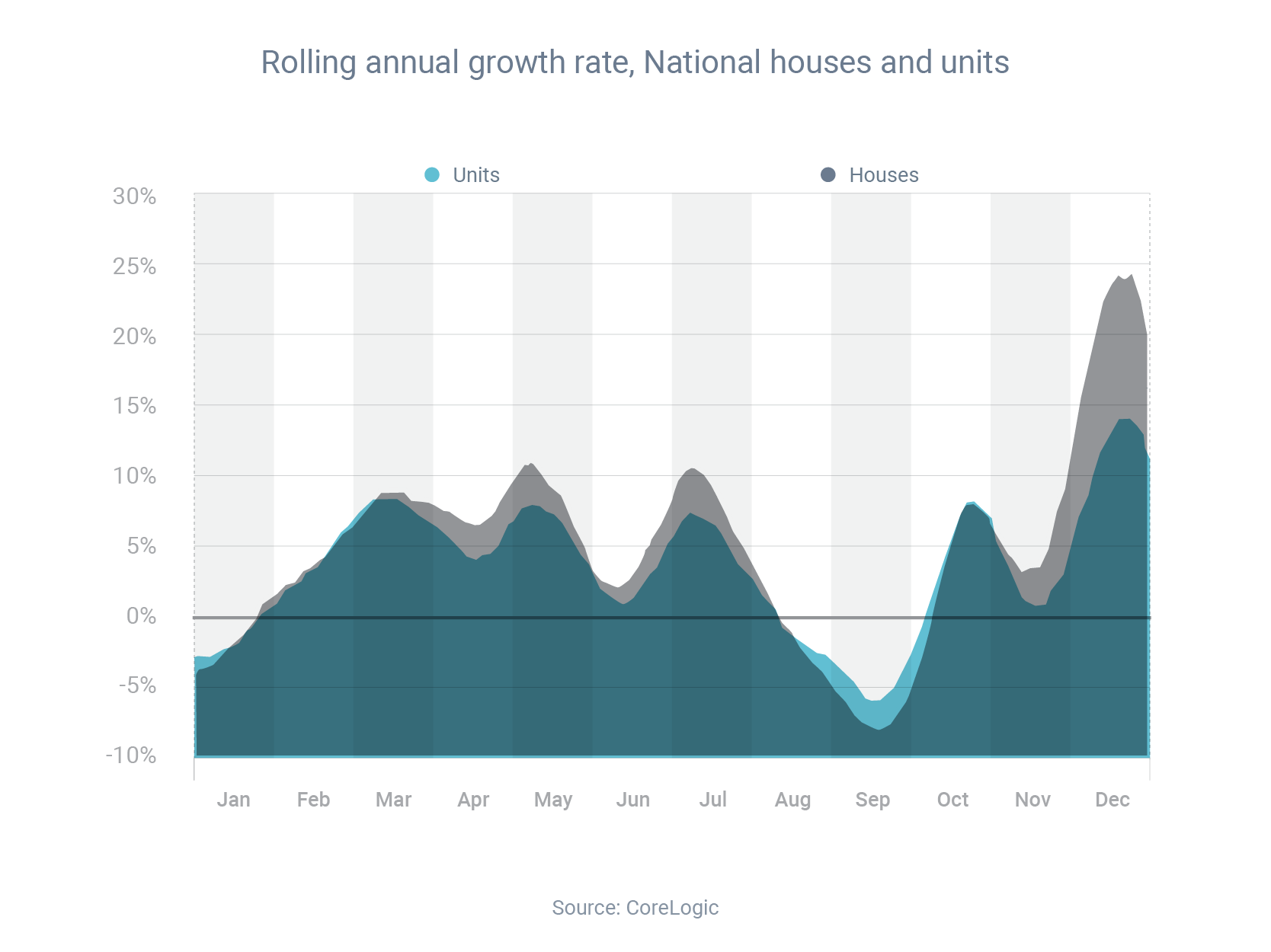 Buyers are steadily shifting their attention from houses to units.
In April, median prices rose 10.4% in annual terms for units and 18.6% for houses, according to CoreLogic – a difference of 8.2 percentage points.
While that gap is large, it's not as large as it was in January, when prices rose 14.3% for units and 24.8% for houses – a difference of 10.5 percentage points.
By the end of April, Australia's median house price had reached an eye-watering $819,000. By contrast, the median unit price, while still high, is just $620,000.
As property prices continue to rise, it's likely more buyers will shift from houses to units, which would lead to a further narrowing in the price growth differential. It's even possible that, at some point, unit price growth will overtake house price growth.
ATO warns of new tax scam
The Australian Taxation Office (ATO) has urged people to be vigilant about a new scam doing the rounds.
The ATO has detected an increase in fake websites offering to provide tax file numbers (TFN) and Australian business numbers (ABN) for a fee – but, instead, using the websites to steal consumers' money and personal information.
These fake services are often advertised on social media.
"We are concerned about a recent increase in the number of victims reporting scams around TFN and ABN applications. We are also still seeing scammers impersonating the ATO, making threats, demanding the payment of fake tax debts or claiming a TFN has been 'suspended' due to fraud."

Tim Loh, ATO assistant commissioner
If you are looking to obtain a TFN or ABN, you can do so for free using these government links below:
Buyers urged to stay calm as fixed mortgages expire
Large numbers of borrowers will soon be coming to the end of their fixed-rate period, with $44 billion of fixed loans set to expire this year.
Some media reports have suggested that borrowers in that situation should be worried, because their new variable interest rate is likely to be higher than their current fixed rate. However, there are four reasons not to panic:
When you took out your home loan, the lender wouldn't have approved your application unless it believed you could still repay your loan if interest rates increased.
Despite higher repayments, interest rates continue to be low by historical standards. This is the case even if they rise by 2 percentage points over the next couple of years.
If you budget for higher interest rates now, you'll be prepared when they do increase.
When your fixed-rate period comes to an end, you can ask your broker to refinance you to another lender offering a comparable loan with a lower interest rate.
Fixed-rate mortgage expiring? Contact the Rateseeker team to explore your options and find the best home loan for your personal and financial situation.
** General Advice Warning

The information provided on this website is general in nature only and it does not take into account your personal needs or circumstances into consideration. Before acting on any advice, you should consider whether the information is appropriate to your needs and where appropriate, seek professional advice in relation to legal, financial, taxation, mortgage or other advice.
Browse categories
More articles