Rateseeker Round-up: January Property News
The first month of the year is behind us, and it was a busy one for the property market.
Demand for home loans is strong across the country as buyers flock to lock in a low rate on their mortgage ahead of the expected cash rate rise in late 2022 or 2023. At the same time, more Aussies than ever are building their dream home, thanks to the combination of the HomeBuilder incentive and low interest rates.
Missed the latest news? Catch up on the four biggest updates you need to know below.
Home loan activity continues to surge
According to the Australian Bureau of Statistics (ABS), home loan activity is at historically high levels with Australians committing to $31.4 billion of home loans in November. This figure was 6.3% higher than the previous month and 33.2% higher than the previous year.
So who's borrowing? The data shows that while owner-occupiers were borrowing more in November, investor activity was behind the massive surge in 2021.
Owner-occupier borrowing was up 7.6% on the month and 17.2% on the year, while investor borrowing was up 3.8% on the month and 86.9% on the year.
Want to enter the market in 2022? Here are four expert tips to make the process as smooth as possible:
Maximise your credit score by paying all your bills on time and reducing your credit card limit
Get started early, as it can take several weeks to get a home loan pre-approval
Speak to a mortgage broker, as they can compare loans and access special deals on your behalf
Don't forget to account for the additional fees that come with buying a property, such as conveyancing fees and stamp duty (if applicable)
Rental market experiences steep growth in 2021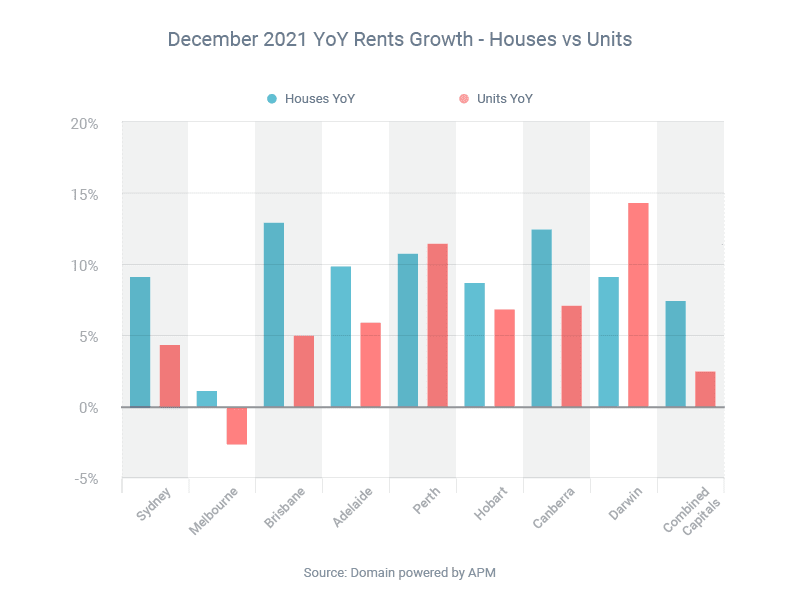 It's not just home loans that are seeing strong demand. The rental market is also climbing steeply in most capital cities around the country.
The average rent paid by a tenant living in a capital city was 7.4% higher in the December quarter of 2021 than the same quarter of 2020, according to Domain.
In light of this, 2022 might be the ideal time for first home buyers to get their foot on the property ladder.
If you're preparing to save for a deposit, here are a few tips that might help:
Increase your income – get a second job, do more shifts, start a side hustle
Reduce your expenses by moving to a cheaper rental property, cutting back on home delivery, or making fewer discretionary purchases
Reduce your deposit by opting for a low-deposit loan, a family guarantee loan or a spot in the First Home Loan Deposit Scheme
Sound confusing? Don't worry, we're here to help. Rateseeker's qualified team of mortgage brokers will assist you through every stage of the mortgage application process. Best of all, these services come at no cost to you.
Ready to learn more? Request an obligation-free consultation today.
More Aussies are building their dream home
There's a massive building boom going on in Australia right now, thanks to the combination of the now-concluded HomeBuilder incentive and low interest rates.
Building work started on a record 149,345 new detached houses in the year to September 2021, according to the latest data from the Australian Bureau of Statistics.
Building a new home is an exciting process, but the financing process is much more complicated than getting a standard home loan.
Lenders require all the usual documents, plus additional paperwork such as a copy of your building contract, building plans and building specifications, and quotes for any additional work you might be planning.
The way lenders pay out the loan is also more complicated. Instead of giving the money in one lump sum as they do with a standard loan, they distribute it in five 'drawdowns' as the build reaches key milestones.
Looking to build a new home in 2022? Speak to us today to discuss your options and find the sharpest home loan rate.
Property prices growing at different rates across the country
Australia's property market enjoyed extraordinary growth during 2021.
However, a city-by-city breakdown shows that different markets are at different stages of their cycle. The median price of all Australian homes increased 22.1% last year, according to CoreLogic.
However, as the graph above shows, this uptick isn't equal across the board. The numbers say it all:
Sydney's monthly growth rate peaked at 3.7% in March and was 0.3% in December
Melbourne peaked at 2.4% in March and fell 0.1% in December
Perth peaked at 2.7% in February and rose 0.4% in December
Hobart peaked at 3.3% in March and rose 1.0% in December
Canberra peaked at 2.8% in March and rose 0.9% in December
Darwin peaked at 2.7% in April and rose 0.6% in December
The only exceptions to the rule were Brisbane (2.9% growth in December) and Adelaide (2.6% in December), with both cities enjoying their strongest growth at the end of last year.
This means that these two cities are in strong growth mode, while the remainder are experiencing milder growth.
** General Advice Warning

The information provided on this website is general in nature only and it does not take into account your personal needs or circumstances into consideration. Before acting on any advice, you should consider whether the information is appropriate to your needs and where appropriate, seek professional advice in relation to legal, financial, taxation, mortgage or other advice.
Browse categories
More articles