Rateseeker Round-up: August Property News
Despite much of the country being in lockdown over the past month, August was still a busy month for property news.
Recent data revealed that demand for homes is outstripping supply in major capital cities, and first home buyer activity continues to be at historically high levels – although the number of first home buyer loans has fallen in recent months. A number of lenders have also introduced a 'green loan' to support borrowers who want to finance eco-friendly home improvements.
If you missed the latest property market news, we have you covered. Discover the four biggest updates to come out of the Australian property market below.
Demand for homes outstrips supply in capital cities across Australia
The property sector is holding strong against the effects of COVID-19, with demand continuing to outstrip supply across the country. CoreLogic reported that between May and July, 1.4 homes were sold for every 1 new listing added to the market – which is, in turn, pushing up demand and prices.
Adelaide had the highest ratio of volumes versus sales, with 2 homes sold for every new listing on the market. This was followed by the ACT, Sydney, and Hobart at 1.5 homes sold for every new listing. Last on the list was Darwin, with 1.1 homes sold for every 1 new listing added to the market.
Adelaide = 2.0 sales
ACT = 1.5
Sydney = 1.5
Hobart = 1.5
Brisbane = 1.3
Melbourne = 1.3
Perth = 1.2
Darwin = 1.1
There are two reasons why the sales-to-new-listings ratio is so high right now. First, properties are selling at their fastest rate since 2004. At the same time, new listings are below their long-term average.
With prices rising fast, the sooner you enter the market, the less you'll have to pay. If you're looking to purchase a property, reach out to our expert brokers today for a no-obligation consultation.
First home buyers drift out of property market, while investors continue to buy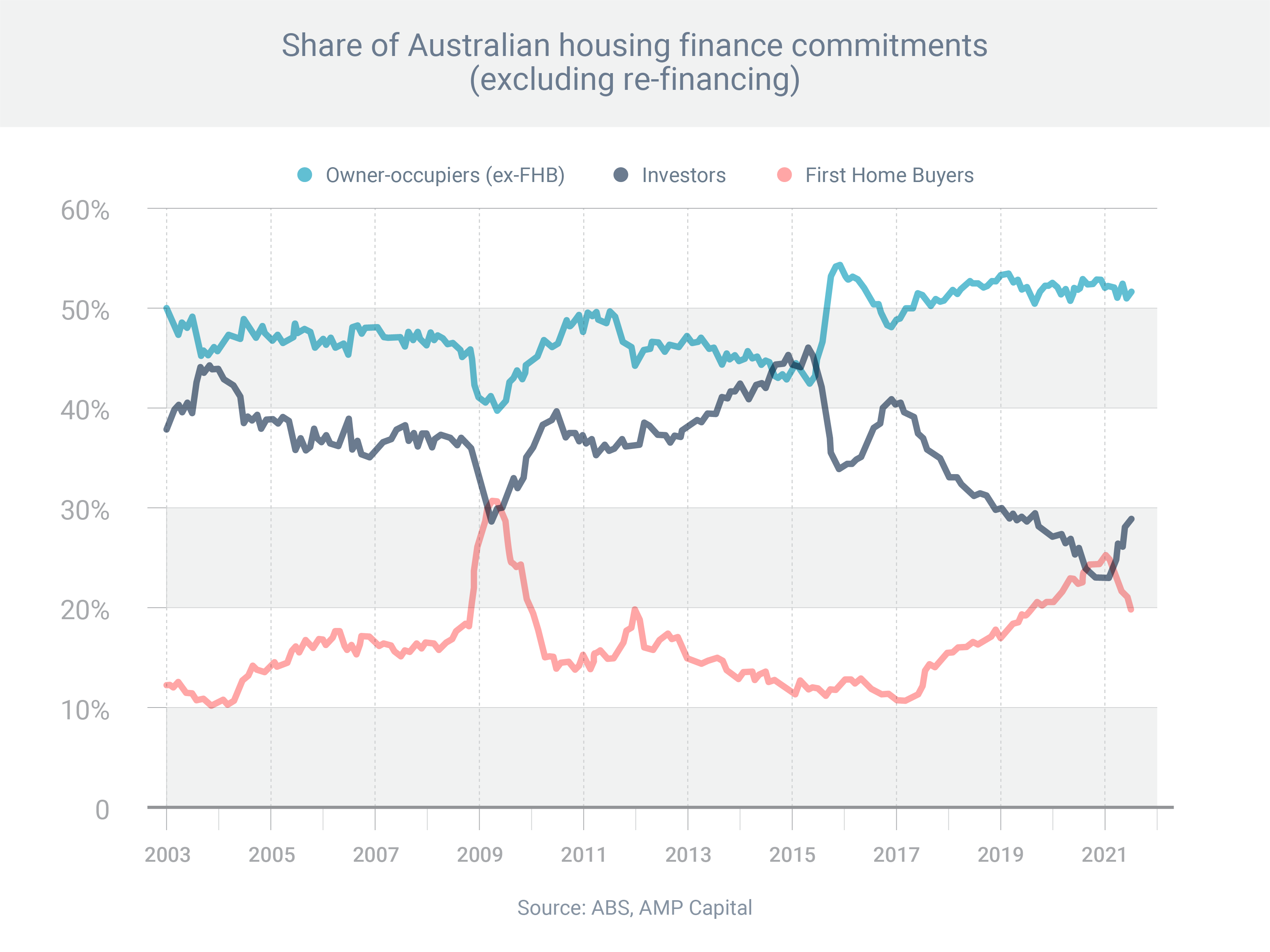 First home buyers have been drifting out of the market in recent months, and investors are quickly swooping in to take their place. The Australian Bureau of Statistics reported that June was the fifth consecutive month that first home buyer loans fell, as well as the fifth consecutive month that the share of first home buyer loans (compared to the overall market) fell.
Despite these figures, first home buyer activity still remains at historically high levels. The number of first home buyer loans in June 2021 was 47.1% higher than in June 2020.
At the same time that first home buyers are pulling out of the property market, investors are flooding in. June was the third consecutive month in which investors increased their market share. Property investment loans are also at historically high levels, with investor activity in June 2021 up 116% compared to June 2020.
Lenders introduce loans for green home improvements
Homeowners looking to make their property more sustainable will now have an easier time doing so, thanks to new 'green loans' introduced by a number of lenders.
Lenders like CommBank are now offering special loans for borrowers who want to finance home improvements like:
Installing solar panels
Installing water tanks
Adding insulation
Adding double glazing to the windows
Doing renovations to make the home more energy-efficient
These loans may come with lower interest rates and different borrowing conditions than traditional loans. If you're interested in making your property more sustainable, get in touch with us today and we'll help you find the sharpest green loan.
ATO reminds property investors to declare all property income
With the 2020/21 Financial Year well behind us, the Australian Taxation Office (ATO) has issued a reminder to property investors about common tax traps that can delay refunds or lead to an audit.
These include mistakes like:
Failing to declare all property income, including capital gains from selling an investment property
Claiming for interest charges on personal loan amounts
Immediately claiming the full amount of capital works
If you're filing your tax return, be sure to review the ATO's Tax Time toolkit to ensure everything is in order before hitting submit.
** General Advice Warning

The information provided on this website is general in nature only and it does not take into account your personal needs or circumstances into consideration. Before acting on any advice, you should consider whether the information is appropriate to your needs and where appropriate, seek professional advice in relation to legal, financial, taxation, mortgage or other advice.
Browse categories
More articles